"Executive coaches are not for the meek. They're for people who value unambiguous feedback. All coaches have one thing in common, it's that they are ruthlessly results-oriented." FAST COMPANY Magazine

"If ever stressed-out corporate America could use a little couch-time, it's now. Trust in big companies is at an all-time low. Baby-boomers have been burned; Gen Xers aren't expecting the Corporation to take care of them. Under the circumstances, employees are much likelier to go outside and get independent advice to help them be better managers" Karen Cates, Assistant Professor of Organizational Behavior, Northwestern's Kellogg Graduate School of

Management.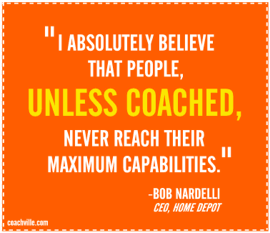 "Between 25 percent and 40 percent of Fortune 500 companies use executive coaches" Recent survey by The Hay Group, an International Human Resources consultancy
"I never cease to be amazed at the power of the coaching process to draw out the skills or talent that was previously hidden within an individual, and which invariably finds a way to solve a problem previously thought unsolvable," John Russell, Managing Director, Harley-Davidson Europe Ltd.

"Asked for a conservative estimate of the monetary payoff from the coaching they got, these managers described an average return of more than $100,000, or about six times what the coaching had cost their companies." Fortune, 2/19/01, "Executive Coaching -- With Returns a CFO Could Love"

"Coaching is the number two growth industry right behind IT (Information Technology) jobs, and it's the number one home-based profession." Start-Ups Magazine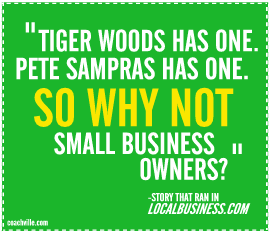 "What's really driving the boom in coaching, is this: as we move from 30 miles an hour to 70 to 120 to 180......as we go from driving straight down the road to making right turns and left turns to abandoning cars and getting on motorcycles...the whole game changes, and a lot of people are trying to keep up, learn how not fall off." John Kotter, Professor of Leadership, Harvard Business School.

"Across corporate America, coaching sessions at many companies have become as routine for executives as budget forecasts and quota meetings." INVESTORS BUSINESS DAILY

"...[A coach is] part advisor, part sounding board, part cheerleader, part manager and part strategist." The Business Journal, April 10, 2000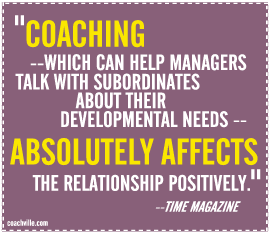 "Coaches are everywhere these days. Companies hire them to shore up executives or, in some cases, to ship them out. Division heads hire them as change agents. Workers at all levels of the corporate ladder, fed up with a lack of advice from inside the company, are taking matters into their own hands and enlisting coaches for guidance on how to improve their performance, boost their profits, and make better decisions about everything from personnel to strategy." --Fortune, May 21, 2000
"Inside every successful business person is an even more ambitious one trying to get out. He or she just needs a little help." Someone To Watch Over You, 10/9/00, Australian Financial Review
"A coach may be the guardian angel you need to rev up your career" MONEY Magazine
copyright CoachVille 2002 duplication permitted when attribution intact